| | | |
| --- | --- | --- |
| | | |

Welcome to Laura's House of Halloween! This page has been gone for a long time, but I decided to bring it back to life, much like Frankenstein's monster.
Is it as scary, you ask? No, of course not...it's scarier! Skeptical, are you? Well, why don't you take a look around and see for yourself?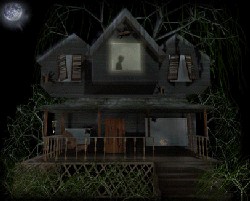 Just because my doors have been closed awhile, doesn't mean that Halloween has not had a place in my heart! Quite the contrary! Once September rolls around, I start getting out all my Halloween items, and start getting prepared for October, my favorite month out of the entire year! I spend all of my free time watching horror movies, making creepy crafts, reading thrillers, writing my own tales of terror, or simply relaxing with some spooky tunes.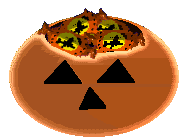 Halloween has a feel that no other day or night out of the year has. It's the only day where everyone can let down their hair and just are free to be whomever they want. It's the one night a year where it's okay to go door to door asking for goodies. Halloween isn't about being evil...it's about having fun!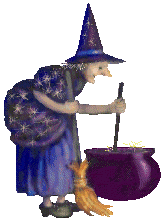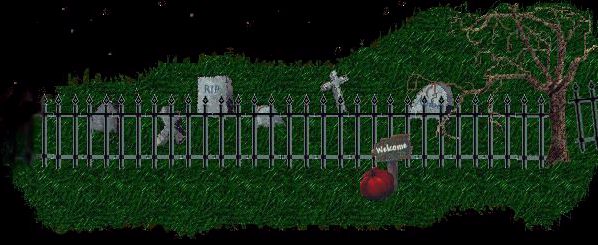 Without further ado, let's start the fun!

Please note that most of my wicked webpages are graphically heavy and contain music/sounds.
Be patient, Halloween Groupies!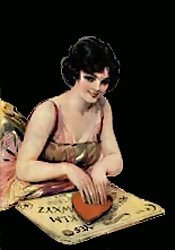 Laura's House of Halloween Blog: Along with finally getting a proper domain for my Halloween site, I have also started a new blog about all things spooky! Content will be regularly added through Halloween, but will also be up year-round!

Horror Land: This is a self-navigating tour of a scary amusement park. By "self-navigating" I mean that you are on your own, and there are no instructions along the way. In each attraction you will have to find your map (pic) to exit the area. Sometimes it's hidden well and sometimes it's out in the open. The only hint I can give you is make sure you let all the pages load completely and try running your mouse over images. Oh and make sure your sounds are unmuted. WARNING: Horror Land may not be suitable for young children. Please use your best judgment, as some images/sounds may be considered too violent, disturbing, or frightening for children. It contains NO sexual content or strong language.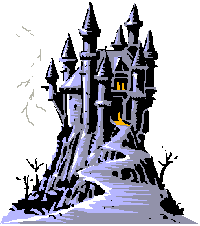 The Haunted House: This is a graphical story I wrote, where you travel through a haunted house.


The Dead Library: Find a list of horror movies to get you in the Halloween mood. *Has been organized alphabetically and now includes purchasing links!


The Graveyard: This is a page dedicated to some of my favorite characters who died in horror movies. (Note- This could spoil movies if you haven't seen them! You've been warned!!!)



Fears: Don't be scared...this is a list of phobias and their meanings.


Witch's and Warlock's Wardrobe: Open the closet doors, and choose a costume to wear this Halloween.


The Monster Hotel: Take a tour of the Monster Hotel and see who has checked in. *New guests have checked in for Halloween 2014!



Terror Train: Take a trip on the Terror Train with myself and Igor as your guides.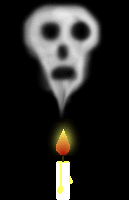 Spooky Tales For The Midnight Hour: A few chilling stories and poems for your enjoyment.


True Ghost Stories: Have you seen a ghost or have had anything unexplainable happen to you? Then visit this page!


Ghoulish Games: Some word games, flash games, and a list of video games with a Halloween theme.


Halloween Treats: Mmm...how about some gruesome goodies?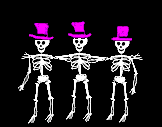 Spooky Songs and Monstrous Melodies: Some of my favorite Halloween songs with lyrics! *New! Lots of new songs have been added, and I've also added Youtube videos for proper song sampling, in place of background midi's!



Halloween Humor: A little laughter never killed anyone...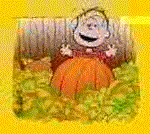 It's The Great Pumpkin, Charlie Brown: Dedicated to everyone's favorite Halloween special, with sounds and quotes!


Treehouse of Horror: Ahh, what would Halloween be without the Simpsons and their twisted adventures? Don't forget to take a bite of the donut *evil grin*



Win My Award!: Information on how you...yes you!..can win my Attic Award of Spookiness! (Get it? Laura's HOUSE of Halloween...ATTIC Award...ok I'm easily amused.)



Wanna Be Safe This Halloween?: No one wants to see children get hurt on Halloween, right? RIGHT?! Hey, you with the axe, I didn't get an answer from you! I'm keeping my eye on you, buddy!


Horrifying Awards: These are awards I have won...*gets choked up* I would like to thank Dracula, Frankenstein, and Wolf Man, without whom I wouldn't be the macabre person I am today. These are for you, guys! *wipes away tear*



Guardians at Night: These are the creepy little friends I adopted to protect my page.


Ghostly Credits: These are the folks who provided certain things for my website.


The Spider Web: Links to other horrifying webpages.








Please sign my Ghostbook! Only leave comments please. Questions and everything else should be emailed. Thank you!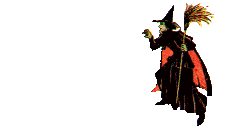 That mean old witch cast a spell on my counter!

Oh, but look! My pet wolf has gathered some bones for me to use instead!


Free counters provided by Andale.




Thank you for coming to my humble abode! For a couple years my House of Halloween has been closed and boarded up. After evil people came and bulldozed it (aka my server deleted it), I never thought I would be able to rebuild it. I recently gathered up the pieces and I knew I could put it back together. Yes, it looks a little different, but it is a home where Halloween fans everywhere are always welcome. I will work very hard to keep my doors open for as long as Halloween exists. So keep monster mashing and raising the dead, and you know I'll be there with you.





All graphics on my pages were found on free graphics sites. Check the credits page to see where I got them some of them. You are free to take what you like, since I don't own them. But please explore the sites on my credits page to make sure the graphic you want gets the proper credit if need-be. And PLEASE don't hotlink!! Right-click and save the images to your hard drive.